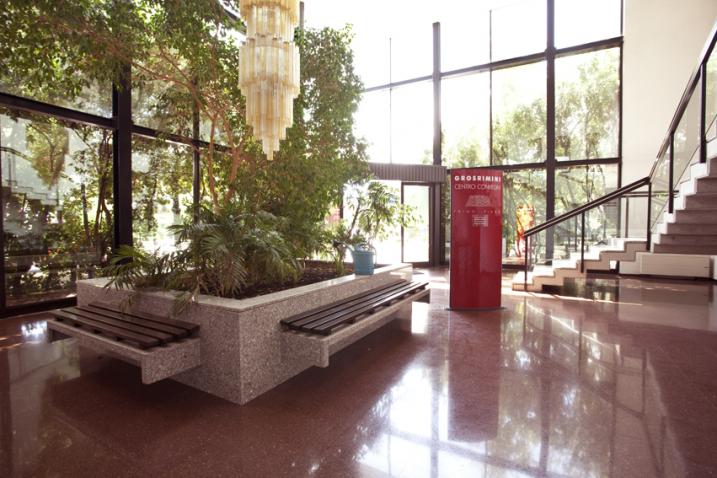 Located inside the Centro Direzionale Est (office area) is the Conference Centre: 3 technologically equipped halls with all comforts are available for the operators of GrosRimini and external operators.
The halls (with a flexible capacity accommodating from 10 to 120 people) are suitable for all types of events: meetings, conferences, sales meetings, seminars, training courses, product presentations, fashion shows, etc.
Both guests and organisers have a wide range of technological services available in order to achieve the best possible results of their events, including:
- telephone, fax and photocopy services;
- e-mail service;
- internet wi-fi connections;
- audio and video conferences;
- projection equipment;
- cordless and pocket microphones;
- overhead projector;
- flip board;
- folders and pens;
- interpreter service;
- hostess service;
- reception;
- wardrobe service;
- bar and restaurant service;
- possibility of organising coffee break, buffet and lunch services, etc.;
- lift;
- free outdoor parking.
For further details see the information sheets alongside for the three halls (Sala Gialla, Sala Azzurra and Sala Verde) indicating the respective capacities, technical services and maps.
Special fees are applied to the members and operators of GrosRimini, trade unions, trade associations, professional associations and various other bodies.
Free quotations customised to meet all your needs.
Contact us and expect the best.
With our services and facilities we will be able to offer the best solution to meet your needs. For events that will make an impact.